Callaway Golf Shoes
Callaway golf shoes are of course among the most respected of all golfing equipment.
If you have on a pair, you are a sharp-dressed golfer, no question about it! Callaways are described as "efficient", "stylish", and even "innovative". They make women's as well as men's golfing shoes and both genders' shoes are renowned for looking magnificent even more so than comparable Nike golf shoes or Adidas golf shoes.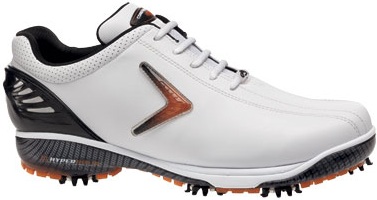 Callaway golf shoes can give you anything you want in a golfer's shoe, whether you want to look athletic and seriously sporty or whether you want the look of the traditional, classic saddle shoe. Callaway has also developed a golf shoe that is an open-toed sandal that features replaceable spikes so that you get more stability and traction out on the course. These shoes definitely provide an enhancement to performance in addition to an enhancement to your golf look and style. Their shoes will last, too, as they are made with waterproof leather and special, cushioned insoles are that provide increased support and breathability. All Callaways are very comfortable and can be worn comfortably by just about anyone who plays golf. However, you should never select any style or brand of golf shoe without considering how you really will dress out on the course--when trying out golf shoes, wear the socks you'll be wearing and know whether you prefer or require a lighter or heavier fit.
Callaway Hyperbolic
So whether you are talking class, performance quality, or comfort in golf shoes, Callaway gives it to you. Consider, just for one example, Callaway's new, at the time of this writing, hyperbolic golf shoe. Todd Dufek, the President of the Locker Room Managers Association, can't stop gushing about the Callaway Hyperbolic, which might be the closest thing to a runner's sneaker that a golfer can possibly wear--a shoe that provides performance enhancement and foot protection while being so light and comfortable that it's as if you're wearing nothing on your feet. Dufek has written:
"I've worn these Callaways on the range while I've hit every club in the bag and put them in play several times and found them to be very comfortable. [They] also did a nice job of keeping me anchored when I swung anything from a driver to a wedge. In short, this is a light weight shoe that feels like nothing on your feet, but provides great support and traction. If you've read recent shoe reviews you know that I've also worn Nike's version of a light weight shoe and it's clear that the Callaway version is better because the upper is much firmer and you feel more locked in to the shoes when you swing...In short, this is an excellent shoe for recreational golfers, but I think players of all levels will like the style, performance and comfort of this shoe...Callaway has moved their golf shoe operation in-house and the jump in quality is unmistakable. In short order they have produced a very stylish, comfortable and light weight shoe that is as good looking as it performs on the range and on the links. If you walk you'll find the light weight of this shoe a delight and will be less fatigued toward the end of a round, leading to better performance over the last few holes. These shoes are as sleek as a Corvette and grip the ground like that automobile hugs the road. Buy Hyperbolics and you won't be disappointed."
A golf shoe like this can only be made by a company that is always looking to innovate and improve upon what they have already produced. Callaway designers welcome feedback both positive and critical in order to be able to keep all of their shoes stylish, comfortable, classy, contemporary, and performance-enhancing. Other top selling Callaway golf shoes that receive rave reviews include the Callaway Tour Authentic Exotic Chev and the Callaway XTT Comp (both men's shoes). Check out these and many other Callaway golf shoes for both men and women if you want the best shoe to wear on the course. If you can't find what you want in their awesome selection, you can always take a look at the excellent line up of Taylor Made golf shoes.