Mizuno Golf Clubs
Mizuno golf clubs are considered to be among the finest that money can buy today.
Mizuno has garnered a strong reputation for, in general, feeling great to the golfer, sounding great to the golfer's fellow players when he strikes the ball, and most importantly improving a golfer's game with advanced design technology that enables truer strokes upon the ball.
One of the most renowned of all Mizuno golf clubs is the Bettinardi Black Carbon Putter. As the name suggests, Mizuno's designers teamed up with world the world famous maker of putters, Bob Bettinardi, to make this club. This putter was specifically made to provide beginners as well as intermediate and advanced golfers extra confidence in their putting while also providing the golfer with greatly enhanced feel with every stroke. This one-piece, 100% milled carbon steel club makes use of patented Feel Impact Technology Face (F.I.T. Face). Mizuno lists the salient features of its Bettinardi Black Carbon Putter as: 100% milled one piece carbon steel putters for ultra consistency; Winn AVS Honeycomb Sun gold/black grips; True Temper steel shafts; and Black chrome finish for maximum glare resistance on the green.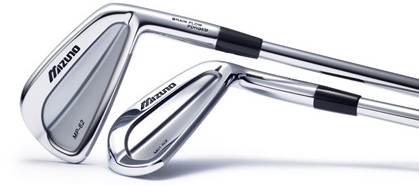 Mizuno MX 200 and MX 300 Irons
Another emerging superstar among the Mizuno line are their new MX 200 irons with Y-tune technology. Mizuno lists their features as: Innovative Y-tune technology provides a massive sweet area for unsurpassed forgiveness; Modified U grooves produce the ideal spin rate for maximum playability in all conditions; Durable double nickel chrome plated finish; Grain Flow Forged, 1025E Pure Select carbon steel provides the ultimate soft, solid, consistent feel.
Amazingly, users of these particular clubs rarely, if ever, have the least negative thing to say about them. The MX 200 irons with their Y-tune technology are said to be a great value, high quality clubs, easy to use, durable, and stocked with fantastic features (those listed). In fact, these clubs have even been called "perfect" by some golfers who used them.
There are also MX-300 Irons with Y-TUNE PRO technology which are specifically designed to give the golfer enhanced feel and ball flight control as well as the benefit of added forgiveness. The sole of the MX-300 irons is dual cambered and has a rolled trailing edge as well as a generous leading edge bevel for reducing turf drag to a minimum and reduction in digging through impact. These clubs are rated just about as highly as the MX 200 irons but once in a while their durability and overall quality are criticized by some--mainly because of their chrome plating which can eventually rust and might yield "dings" or "notches" after repeated usage.
MX 1000 Hot Metal Irons
One of the very highest rated Mizuno clubs among users is their MX-1000 Hot Metal Irons series. These feature a specially-developed super-high COR along with a positively huge MOI to give incredible distance and forgiveness. The MX-1000s' Hot Metal construction is the result of plasma welding a hot, thin ES230 steel face to a stainless steel body of cutting edge club technology, a very special, proprietary construction that yields legal limit COR numbers which in turn yield amazing distance for your iron shots. The Hollow Technology construction with its internal extreme MOI weighting is what makes these very special Mizuno golf clubs arguably the most forgiving irons anywhere. Furthermore, the Hollow Technology construction is what enables the super-deep and super-low CG for getting an easy, straight, and high ball flight. With a stock shaft of True Temper GS95, these are longest and straightest irons Mizuno has ever made and they were specifically designed to elevate the game of anyone regardless of their current level or handicap. It is hard to find a golfer who has used these who has anything bad to say about them.
Need a great pitching wedge? Mizuno's new MP 52 3-PW clubs can fit that bill for you. These feature some cutting edge technology, with their listed features being: Innovative DUAL MUSCLE technology design combines solid feel and increased playability; Rolled leading edge, cambered mid-sole deliver striking ability from all lies; Made of grain flow forged 1025E select carbon steel; Unique CNC-milled pocket cavity provides a lower, deeper CG.
Mizuno golf clubs are wonderful for new and beginning golfers and have a reputation for quickly reducing a more experienced player's handicap.